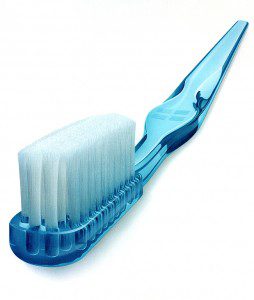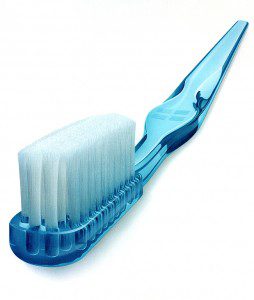 Ever thought of your old toothbrush as a beauty tool? Here's 7 ways you can buff your way to beauty!
1. EXFOLIATE LIPS: Lather lips with my favorite Eucerin Aquaphor & gently buff lips in small circles. Rinse lips clean & follow up with your favorite lip balm. mmmm…smooth & kissable!
2. TAME FLYAWAYS: Spray toothbrush with hairspray & smooth flyaways or keep bangs in place (without getting product on your forehead).
3. BROW TAMER: Spritz toothbrush with spray gel & smooth over unruly eyebrows to keep them in place for the day.
4. LASHES: In a pinch & no lash separator handy? Use a toothbrush to separate lashes after mascara is applied.
5. BAD TAN: Add a little lemon juice to toothbrush & buff away tan stains on fingers & palm of hands.
6. EXFOLIATE FACE: This is controversial, but can be effective with a soft baby toothbrush…use soft toothbrush to buff around the folds of your nose, chin & forehead (skip on sensitive or thin skin).
7. BUFF THE RUFF: Use your toothbrush to exfoliate the rough skin on heels, knees & elbows. Follow up with moisturizer.
Think twice about tossing your old toothbrush- it could become a VERY useful tool in your beauty-bag of tricks! -Allison Pynn
(FINE PRINT: OBVIOUSLY don't use the same toothbrush to exfoliate your face that you spray hair products on!)
---