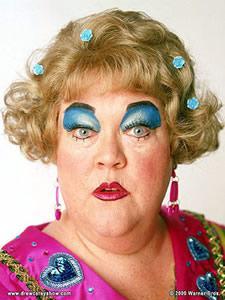 THE BIGGEST MAKEUP MISTAKES….
Here's Allison's list of the top Makeup Mistakes that are victimizing too many woman! Let's join together & put a stop to the maddness (this is a small rant, but I still love you!!)
1. TOO MUCH FOUNDATION. I agree we should have the appearance of perfect skin, why not? When I can't see your skin & only layers of dry-looking, thick foundation? BLEH!!! There are ways to acheive flawless-looking skin without your old, thick foundation (see my article "Sick of Foundation?"). Keep foundation dewey, fresh (check expiration labels), & if you can't see any freckles or moles AT ALL, its probably too thick. Take it off!!!
2. HIGHLIGHTERS UNDER THE BROW LINE. I call this "stripper" look. This unspeakable trend was created in the 90's & it should have stayed there. Adding a frosty "highlight" under the brow was thought to add dimension & pop to the eye…it was a trend. Unfortunately, I still see it around & even hear other MUA's refer to it as a step in the makeup process. The brow bone naturally has a 3-dimensional shape to it & doesn't need help popping- it will highlight naturally in the sun, on camera, anywhere there is light. Swiping a frosty highlighter powder here will scream "I'm out of date!" or "I wish I was still a stripper!". Just add your regular face powder to the area & keep it classy.
3. SHARPIE MARKER EYEBROWS. Oh boy (take a deep breath, Allison). Visit an esthetician to establish an eyebrow design. If you can't afford regular visits, go every other month for a quick design & you can maintain with tweezers in between visits. NEVER use just a pencil to fill in the brows- this creates the "Sharpie Marker Eyebrow". Fill in brows with eyeshadow using an angled brush- use a brow pencil sparingly & with short strokes to mimic the shape of a hair. Keep brows looking soft & filled in naturally- we want people to think we have nice, full brows on our own. Not like our 2 yr old cousin ran rampant with the Sharpie!
4. LIP LINER TOO DARK. Your lip liner should match your lipstick/lipgloss color as close as possible. OR you'll never fail with a nude liner- use a nude liner to outline the lips & fill in with any color you wish. This way, you can extend your lip line a bit & it will look natural & when your lip color fades, we won't see the lip liner stain left.
5. EYESHADOW NOT BLENDED. You shouldn't see where 1 color stops & another begins. This is ESPECIALLY true on the outer edges of your shadow. It should fade naturally into your skin, not come to a screeching hault. Get a crease brush & blend, blend, blend!
(extra tip)
*****FUZZY FACE. We can see your long facial hairs. ALL OF THEM. Its unfortunate & so unfair that women are cursed with unwanted facial hair- this should be a dude-only-issue. But we know better….& we can see your unwanted hairs at the grocery store, mall & the event you just went to last weekend. Take that extra minute, hold up a mirror & evaluate your face in natural sunlight. You'll catch them all here! Grab the tweezers & go to town…Or my favorite option is "Dermaplaning". It removes all hair from the face, exfoliates, & leaves your skin better than baby-butt-smooth! Just lovely!!
****If in Arizona, I recommend www.sofiafacialsandwaxing.com for Eyebrown design & Dermaplaning!
---